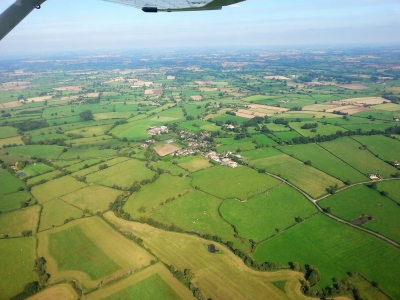 Many people have often wished to experience the unique pleasure of flying in a small, light aeroplane. The sheer joy and excitement of simply being in the air and being able to view the countryside from a new and incomparable perspective is one of the most enchanting adventures possible.
The majority of us have been on holiday, travelling in modern transport jets but this in no way compares with flying at relatively low level at the controls of a small aircraft, seeing the whole world spread before you. This unique adventure is possible with a trial lesson from the Derby Aero Club and Flying School.
The lesson begins with a briefing from your own personal instructor in the operation of the aircraft and the area in which you will be flying. They will also explain the controls and instruments in the aircraft so that you gain as much as possible from your flight. Light aircraft are no more difficult to fly than driving a car and you will soon feel at home in the cockpit. If there is a specific area that you would like to fly over your instructor will identify this on a map for you and, time permitting, will fly you over this area. You are, of course, welcome to bring your camera and many of our student pilots have taken stunning aerial photographs
Your instructor will accompany you to your aircraft and ensure that you are safely seated and secure in the left hand seat of the aircraft (the Captain's seat). They will then climb into the right hand seat and, after calling up the on the radio, will taxi the aircraft to the runway ready for take off.
Soon you will be in the air, soaring above the world. For many people this is enough for their first trip, just experiencing the excitement of seeing, literally, a bird's eye view of the area. For most, however, the real excitement is when the instructor hands over the controls to you and begins to teach you the basics of handling a light aircraft. Under their watchful eye and guiding hands you are now in control and can really experience at first hand the adventure of flying.
All too quickly it is time to return to the airfield and you'll watch as your instructor makes an approach to the runway and lands the aeroplane. After completing your first flight your instructor will be pleased to spend a little time with you discussing all aspects of flying. For many the trial lesson is just the beginning and, when you have been 'bitten by the bug' you will want to carry on with further lessons. If not, then you will just have had an experience you will not forget.
The trial lesson is really the first part of the Private Pilot's Licence course, the lesson counts towards the hours required for licence, and you may wish to purchase a log book in which to record your first flight as it will count towards your licence. Many people, from all walks of life and all ages, become pilots and our staff will be only too pleased to give you any further information you may require.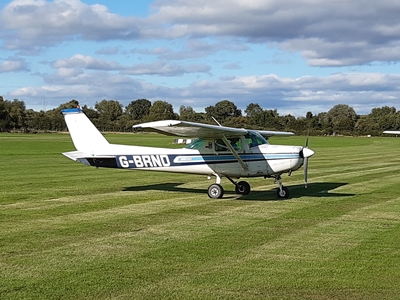 One of our Cessna 152 aircraft.
Anyone can have a trial flying lesson, however we request that if the participant is under 13 years old, is significantly over 16stone in weight (102kg) or has mobility concerns to contact us before purchasing a trial lesson voucher. Each aircraft has certain weight limits, so for larger participants we may require the use of a bigger aircraft for which there is a surcharge for.
The Trial Flying Lesson will usually take place in one of our two-seater Cessna 152 aircraft, although we do have other larger aircraft available should additional participants wish to take part (max 2, subject to strict overall weight restrictions). Contact us for details.
More information on our aircraft fleet.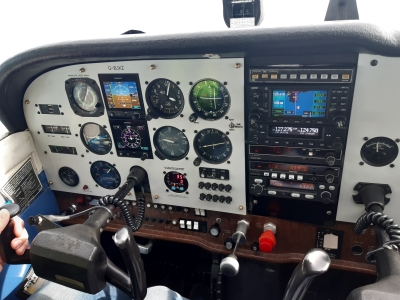 Cockpit of our Cessna 172N aircraft
Trial Lesson Gift Vouchers can be purchased by contacting us on 01283 733803, calling in or online using the link below.
Trial Lessons are offered in two durations, 30 minutes or 60 minutes. This is the actual time the aircraft is moving, which the vast majority of the time is airborne. The brief flight briefing, introduction, photo opportunites and post flight de-brief are provided for no extra charge, without detracting from the lesson time.
The vouchers are valid for 9 months from date of purchase, and can be redeemed 7 days a week. Call us to make a booking.
We also offer a great value beginners pack, which includes 5 hours of flying training in a Cessna 152, one years membership of the Derby Aero Club, a logbook to record your flying, a checklist for the C152, the PPL training syllabus and the AFE PPL1 Flying Training book, all for £920 (saving of over £100). Beginners packs can be purchased online using the button below, by phone on 01283 733803 or by calling in. The books are held in stock with us for collection ready for when you take your first lesson, but can be posted for a small extra charge if desired.