Airspeed Aviation Ltd in a UK based, family owned & run, general aviation company, offering aircraft maintenance, flying training and airfield operations.
We trade as the Derby Aero Club & Flying School for flying training operations and social club.
Derby Airfield was created and owned by the family, and has been developed to be a centre for general aviation in the Midlands, and is the only CAA licensed aerodrome in Derbyshire.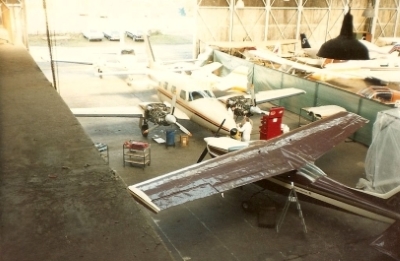 Early Days servicing Cessna Cardinals & Beagle Pups
Airspeed Aviation Ltd was founded in 1982 by Martin & Margaret Jones, as a light aircraft maintenance company, originally at Nottigham Airport. It gained CAA approval, which has been continously held since.
The company quickly expanded and outgrew its hangar space, and looked for a larger site.
During the search for more space, the original Derby Airport, at Burnaston, was discovered and a tenancy was established. This airfield had been discused since 1965.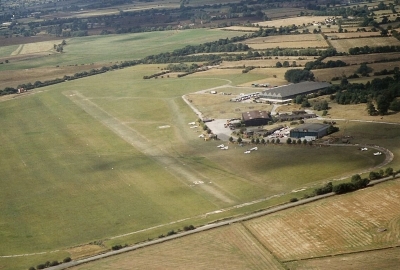 Burnaston Aerodrome in 1988
Burnaston Aerodrome was re-opened in 1986, and the Derby Aero Club & Flying School was established, originally using a brand new British aircraft - the ARV Super 2. However this aircraft prooved to be un-reliable and the fleet was replaced with Cessnas.
The Derby Aero Club grew enourmously during the late 1980s, and many people leant to fly with us.
Sadly our days at Burnaston were numbered when the local council, who owned the site, decided to re-develop it as a car factory.
Burnaston closed for good in March 1990, with nothing remaining of the original site.
Without a home, we looked for a new suitable site, and some local farm land was purchased between Hilton and Egginton in Derbyshire, just two miles from Burnaston.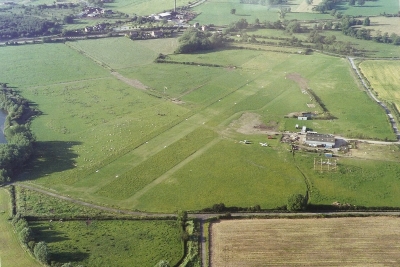 Derby Airfield in August 1992 with the first aircraft just arrived.
Derby Airfield was opened in August 1992, and the CAA granted its aerodrome licence in 1993.
The Derby Aero Club was now home, and the maintenance company operations moved into the converted building present on site.
Over the next few years the facility was expanded to include additional runways, hangarage and facilities.
The new maintenance hangar was made, and the companies capability and capacity significantly increased.
We can now cater for a wide range of aircrafts - modern, vintage, classic, experimental, twin engine and helicopters.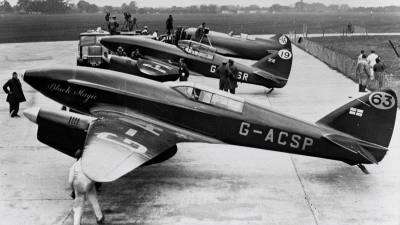 G-ACSP in 1934
The restoration of DeHavilland DH88 Comet racer G-ACSP is underway in our facility at Derby. The work is being conducted by volunteers.
This aircraft was originally flown by Amy Johnson and Jim Mollinson in the 1934 race from England to Melbourne Australia. They retired whilst leading the race in India with engine trouble.
For more information please see www.cometracerproject.co.uk