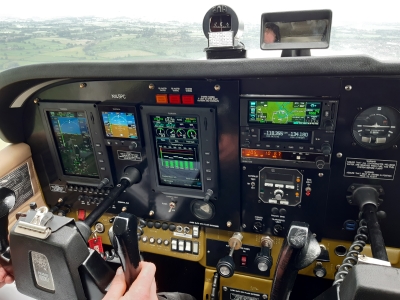 We have a large avionics capability in house, and can offer a wide range of services, from routine testing & maintenance, defect rectification, simple installation to complete avionics system installation.
We are approved dealers for Garmin & Trig, offering their full range of aviation products, and can supply & install a range of other avionics, for all GA aircraft including helicopters.
We aim to give the highest standard of installation and support, and we take great pride in our work. Please see below for some examples of the work we have done.
We can also offer custom bespoke instrument panels to help modernise aircraft, often replacing broken original plastic covers with newly fabricated metal overlays. We design these in house.
If you are looking to modernise your aircraft to improve its capability, safety or reliability - let us help you with:
8.33khz Com radios
EFIS System - Electronic Flight Information Systems
ADS-B Transponders - traffic in & out display and transmitters
IFR GPS - approved GPS systems allowing LPV approaches
EIS - Engine Information Systems both primary and supplementary
Autopilots - new modern digital systems
PFD - Primary Flight Displays, often with touchscreen technology
MFD - Multi Function Displays to show moving maps, terrain & traffic avoidance.
Navigators - including GPS, VOR/ILS, DME & ADF
Audio Panels - with intercoms, remote & panel mount units
USB cabin power outlets
Whatever you are looking for, please contact us - no job too big or too small. We will discuss your requirements and desires, and help you choose the best options available.

We are an authorised Garmin Aviation dealer and installer, and can offer the entire range of Garmin Aviation products, including all EFIS systems, Autopilots, MFDs, Navigators, Coms & Transponders, as well as the un-certified systems, portable and aviation watches.
We can supply some of the Garmin range over the counter - please contact us for a highly competitive quote. We hold a lot of product in stock, and can get most common items very quickly if needed.
Having your avionics installed by a Garmin authorised installer, gives you the full support of Garmin including all warranty.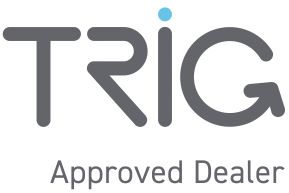 We are approved dealers & installers for Trig Avionics, including the audio panels, Coms & Transponders.
We are approved to complete software updates in house giving you the full support of Trig's excellent service standards.
Require ADS-B out? Trig has a range of transponders and positions sources which can help upgrade any aircraft to approved ADS-B out.
Some examples of the installations we have carried out.